The Six Celebrations of Christmas
Understand Your Personal Christmas!
How do you celebrate Christmas? Celebrate! Not just experience Christmas, but honor Christmas within your life. What makes Christmas special for you?
If you take the time to understand your personal Christmas, will you have more joy every day of the year? Yes, I can guarantee that.
If you take the time to understand your personal Christmas, will you have more freedom, more choice, more creativity in how you celebrate being you? Yes, yes, yes!
If you bring more sensitivity, more consciousness to your celebration of Christmas, will you celebrate your own individuality more fully every day of the year? Without a doubt.
I have written a book about celebrating Christmas. It describes the six ways we each celebrate Christmas and asks many questions to guide your self-reflections. My intention in this book is to inspire you to celebrate more joyfully, not just Christmas, but you, every day of the year.
Haven't You Always Wanted
Every Day to Be Christmas!
It took me a while to be able to read Six Celebrations because I have had an aversion to most things Christmas my whole life. It gave me so much to think about and feel. Lynn's beautiful book brought understanding, laughter, tears, healing and peace. It is a journey into the whole of self that is so powerful and critical in bringing balance and joy back to all forms of celebration.

Thank you, Lynn, for your gift of healing and bringing me back to my heart.
Kim Pentecost
WisdomDancer.com
Six Ways to
Celebrate Christmas!
&
Celebrate You!
Click here to buy your copy and enrich your Christmas celebrations.
The Six Celebrations
If we deconstruct Christmas we find six elements or distinct celebrations – all holy, sacred, profound, mysterious and very personal.
Celebrate Nature and find a new joy in how you experience the cycle of the year and the seasons of your soul
Celebrate Nativity and find the humble rebirth of your own Divinity and receive the gifts of wonder and wisdom
Celebrate Riches and find new delight in the sensuous experiences of life by understanding the spiritual meaning behind your delight
Celebrate Relationships and find greater tenderness and integrity in your connections to family, friends, colleagues, even strangers
 Celebrate Childhood and find deep understanding and new freedom in the memories of your childhood
Celebrate Selfhood and find ways to evolve into a being of more truth, beauty and goodness.
Each of the six celebrations offers your heart a particular joy. To feel each joy you need to ask yourself certain questions and reflect on your experience. Six Ways To Celebrate Christmas! & Celebrate You! is your guide to finding a deeper experience of Christmas and a greater joy in being you!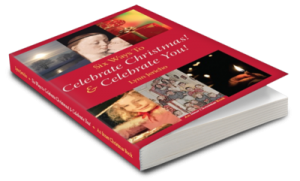 Your book is amazing. I can't read it all at one go obviously. Yet the bits I read, are full of your love. Tis wonderful.
Linda Nagel

Lynn Jericho's Six Celebrations thoughtfully and gently leads the reader to unpack and luxuriate in the many layers of Christmas. She looks at six "Christmases," nature, nativity, riches, relationships, childhood and selfhood, paying exquisite attention to every gesture, symbol and tradition that may be associated with the reader's Christmas. But this is not only a Christmas book; it is also a model for how to look at all celebrations and traditions, encouraging the reader to consider each element and to delve into one's imagination, experience and culture to learn more about him/herself in every way. Jericho's sensitivity and humanity add yet more richness and love to our self-awareness and understanding.
Louise K. Smith
Chicago

She views Christmas through six lenses: the Christmas of Nature, the Christmas of Nativity, the Christmas of Riches, the Christmas of Relationships, the Christmas of Childhood and the Christmas of Selfhood. All of them resonate with me, in terms of what I've learned about this holiday in my studies. So far I've only read the first two chapters. That's because this book is so full of thoughtful questions that stir up ideas in my mind and make me want to sit down with my journal and a cup of tea and write. (Not many books do that!)

Waverly Fitzgerald
www.livinginseason.com

Buy on Amazon. Click here.


.